2012 CAMPAIGN - OBAMA YOU ARE FIRED! - OMNIBUST! - WORST PRESIDENT IN HISTORY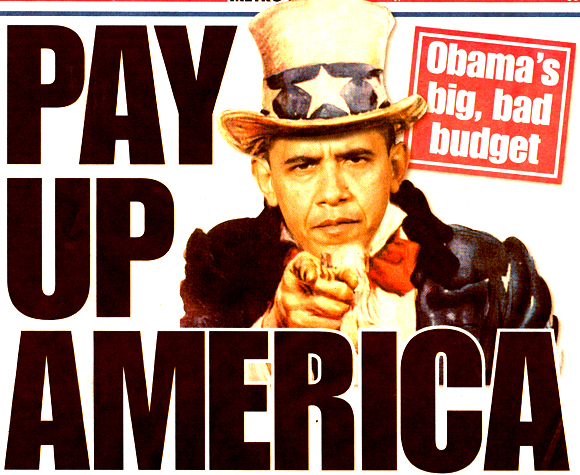 150 DAYS OF CRAP!

FROM HISTORICAL TO HISTORY!
GOOD RIDENS TO YOU AND YOUR SOCIALIST IDEOLOGY
TAKE ALL YOUR LIBERAL THUGS WITH YOU

THANK YOU FOR MAKING US
APPRECIATE THE VALUE OF
CAPITALISM, CONSTITUTIONALISM AND CONSERVATISM
IT'S TIME TO START THE IMPEACHMENT PROCESS
OBAMA HAS BROKEN THE OATH HE SWORE TO UPHOLD
AT HIS INAUGERATION
HE HAS STARTED HIS OWN GOVERNMENT USING
HIS RADICAL LEFT WING COMMUNIST COMRADES
WITH THE HELP OF
THE IGNORANT DEMOCRATS THAT ARE STILL
BLIND TO HIS COMMUNIST POLICIES AND ARROGANCE

TYRANNY IS IN THE WORKS
AND ITS TIME THE MEDIA SHOWS IT HONESTLY
THANK YOU
FOX NETWORK
FOR THE MOST HONEST AND BEST COVERAGE OF THIS
AMERICAN CAPITALIST COUNTRY COUP

OBAMA
HAS HIJACKED THE DEMOCRATIC PARTY TO PUSH THROUGH
HIS RADICAL POLICIES AND BILLS THAT WILL DESTROY
CAPITALISM AND ENSLAVE ALL OF US TO THE GOVERNMENT
WAKE UP DEMOCRATS!

THIS IS NOT A REPUBLICAN/DEMOCRATIC ISSUE
THIS IS AN AMERICAN ISSUE
WAKE UP EVERYONE!

MARCH ON WASHINGTON DC EVERYDAY
START THE IMPEACHMENT PROCESS TODAY!

HE PROMISED TO FUNDAMENTALLY CHANGE AMERICA
HE IS KEEPING HIS PROMISE
THIS IS DEFINATELY NOT THE CHANGE AMERICANS WERE HOPING FOR
HIS GOAL IS TO DESTROY OUR CAPITALIST NATION AND
REPLACE IT WITH A COMMUNIST/FASCIST STATE

THIS IS NO JOKE! ITS REAL
AND
ITS HAPPENING AT THE SPEED OF LIGHT

JUST SAY NO
TO
OBAMA CARE
MORE BAILOUTS
MORE TARPS
MORE STIMULUS
TO A CIVILIAN NATIONAL SECURITY FORCE
CAP N TRADE - TAX
MANDATORY VACCINATIONS

STOP THE INSANITY - START THE IMPEACHMENT PROCESS
THEY TRIED TO IMPEACH CLINTON FOR ORAL SEX

THIS IS
MUCH MUCH MUCH
WORSE AND SHOULD NOT BE TOLERATED BY ANY AMERICAN

OBAMA AND HIS GANG ARE
ANTI - CAPITALISTS THEREFORE ANTI - AMERICANS
COMMUNISTS, FASCISTS, LEFT WING RADICALS, EUGENISISTS
BLACK PANTHERS, ACORN, STORM, SEIU, HCAN, AFSME, AMERICORP
APOLLO ALLIANCE, WEATHER UNDERGROUND, TIDES FOUNDATION
ORGANIZING FOR AMERICA AND
HUNDREDS OF OTHER COMMUNITY ORGANIZATIONS
DESIGNED TO STEAL MONEY
FROM HONEST HARD WORKING AMERICANS
AND
GIVE THIS MONEY TO
DISHONEST - NON WORKING - ANTI AMERICANS

NO WAY SHOULD ANY TRUE AMERICANS STAND FOR THIS
THEY MUST BE STOPPED NOW!

OBAMA IS NOT UPHOLDING THE CONSTITUTIONAL RIGHTS OF
AMERICAN CITIZENS AS STATED IN THE US CONSTITUTION
HE IS SYSTEMATICALLY DESTROYING
OUR CONSTITUTIONAL RIGHTS, OUR ECONOMY, AND OUR COUNTRY
TO ME THIS IS GROUNDS FOR IMPEACHMENT

WHAT DOES THIS SOUND LIKE TO YOU?
CZARS, UNIONS, AND COMMUNITY ORGANIZATIONS
CIVILIAN NATIONAL SECURITY FORCE
GOVERNMENT CONTROLLED CORPORATIONS
GOVERNMENT CONTROLLED HEALTH CARE
GOVERNMENT CONTROLLED BANKS
GOVERNMENT CONTROLLED CAR INDUSTRY
GOVERNMENT CONTROLLED MEDIA
GOVERNMENT CONTROLLED INSURANCE
GOVERNMENT CONTROLLED UTILITIES
GOVERNMENT CONTROLLED ENERGY

TAXATION TAXATION TAXATION TAXATION .......

IF HE ACCOMPLISHES HIS GOALS OF A
GOVERNMENT CONTROLLED SOCIETY
HE WILL HAVE ACHIEVED THE
RETRIBUTION
HE PROMISED THE TO IMPOSE ON AMERICANS
FOR ALL PAST SOCIAL INJUSTICES.

DESTRUCTION OF WEALTH AND REDISTRIBUTION OF WEALTH
ANTI - CAPITALIST & ANTI - AMERICAN

AMERICA SHOULD BE ANTI - OBAMA!

A GOVERNMENTAL ENEMA WILL BE NECESSARY STARTING IN
2010 AND CONTINUED THROUGH 2012
ALL DEMOCRATS MUST GO IN ORDER TO SLOW THE DIARRHEA
COMING OUT OF THIS ADMINISTRATION

WE ARE NOT ANTI - GOVERNMENT
WE ARE ANTI - OBAMA GOVERNMENT
WE NEED A NEW PRESIDENT THAT BELIEVES IN
LESS GOVERNMENT CONTROL
LESS TAXES
LESS BEAURACRACY
LESS FRAUD
ALL CZARS MUST GO
COMMUNITY ORGANIZATIONS
MUST BE 100% TRANSPARENT
CREDIT RATES MUST BE LOWERED
AND
CREDIT LIMITS MUST BE EXTENDED TO SMALL- MID SIZE BUSINESSES
HEALTH INSURANCE MUST BE BORDERLESS AND AFFORDABLE
TORT REFORM IS A MUST
PRIVATE HEALTH SAVINGS ACCOUNTS
PUBLIC (PEOPLE) POOLS TO HELP THE UNFORTUNATE

GOVERNMENT STAY OUT OF OUR PRIVATE LIVES
YOUR JOB IS TO PROTECT US FROM OUTSIDE NATIONS AND RADICALS
YOUR JOB IS TO PROTECT OUR RIGHTS NOT TAKE THEM AWAY!
THAT IS ALL YOU SHOULD BE DOING
OUR TAX DOLLARS ARE ONLY TO GO TOWARD THESE OBLIGATIONS

DEMOCRATS IT IS UP TO YOU TO STOP THIS INSANITY
WAKE UP! WAKE UP! WAKE UP!
YOUR KIDS WILL SUFFER THE ENSLAVEMENT CREATED BY
THESE POLITICAL THUGS IN POWER
YOU MAY NOT SEE IT YET BUT YOU WILL WHEN YOU COME OUT OF
THE OBAMA - MANIA ETHER

HE WILL GO DOWN AS THE WORST AMERICAN PRESIDENT EVER
WHAT A WASTE OF ORATORICAL TALENT.

COULD HAVE BEEN THE BEST IF HE WAS A CONSTITUTIONALIST
CAPITALIST, BIPARTISAN AND AMERICAN IN IDEOLOGY

WHAT A SHAME!
MEANWHILE STOP THE SPENDING!
Thank You for Sharing this with us:
Written by
An Anonymous American Patriot